Although only now storming the Twitter seas, a 2007 paper entitled 'A Linguistic Comparison of Letters of Recommendation for Male and Female Chemistry and Biochemistry Job Applicants' was among the first to highlight the different ways potential candidates are described in their letters of recommendation. This study, published in the journal Sex Roles, found that 'standout' words and ability were emphasised in male candidates, while 'grindstone' words dominated letters written for female candidates. The authors provided a list of the words they considered fell into each category:
Standout words: excellen*, superb, outstanding, unique, exceptional, unparalleled, *est, most, wonderful, terrific*, fabulous, magnificent, remarkable, estraordinar*, amazing, supreme*, unmatched
Ability words: talent*, intell*, smart*, skill*, ability, genius, brilliant*, bright*, brain*, aptitude, gift*, capacity, propensity, innate, flair, knack, clever*, expert*, proficient*, capable, adept*, able, competent, natural*, inherent*, instinct*, adroit*, creative*, insight*, analytical
Grindstone words: hardworking, conscientious, depend*, meticulous, thorough, diligen*, dedicate, careful, reliab*, effort*, assiduous, trust*, responsib*, methodical, industrious, busy, work*, persist*, organiz*, disciplined
which was turned into a word map by Twitter user @EcoEvoEvoEco: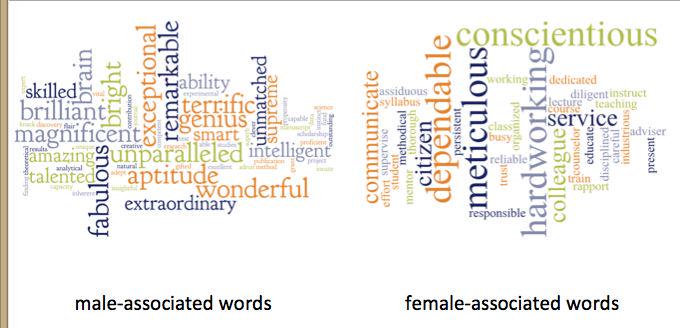 While the authors of the study left the effect these word choices have on search committees to future research, it is ultimately up to those writing letters to take the lead and change their habits. So if you see some of your own letters in these words, a little bit of effort to do things differently in the future could get your star candidate hired - suggested words, online tools and general advice are available from many sources, including this blog.
To read the whole article, click here.